4th September 2023
Beko plc unveil new energy-saving technologies at IFA 2023
Beko plc were thrilled to recently return to the world's largest consumer electronics and home appliances trade show in Berlin to present our latest philosophy, highlight the impact of incremental actions and announce our latest product innovations.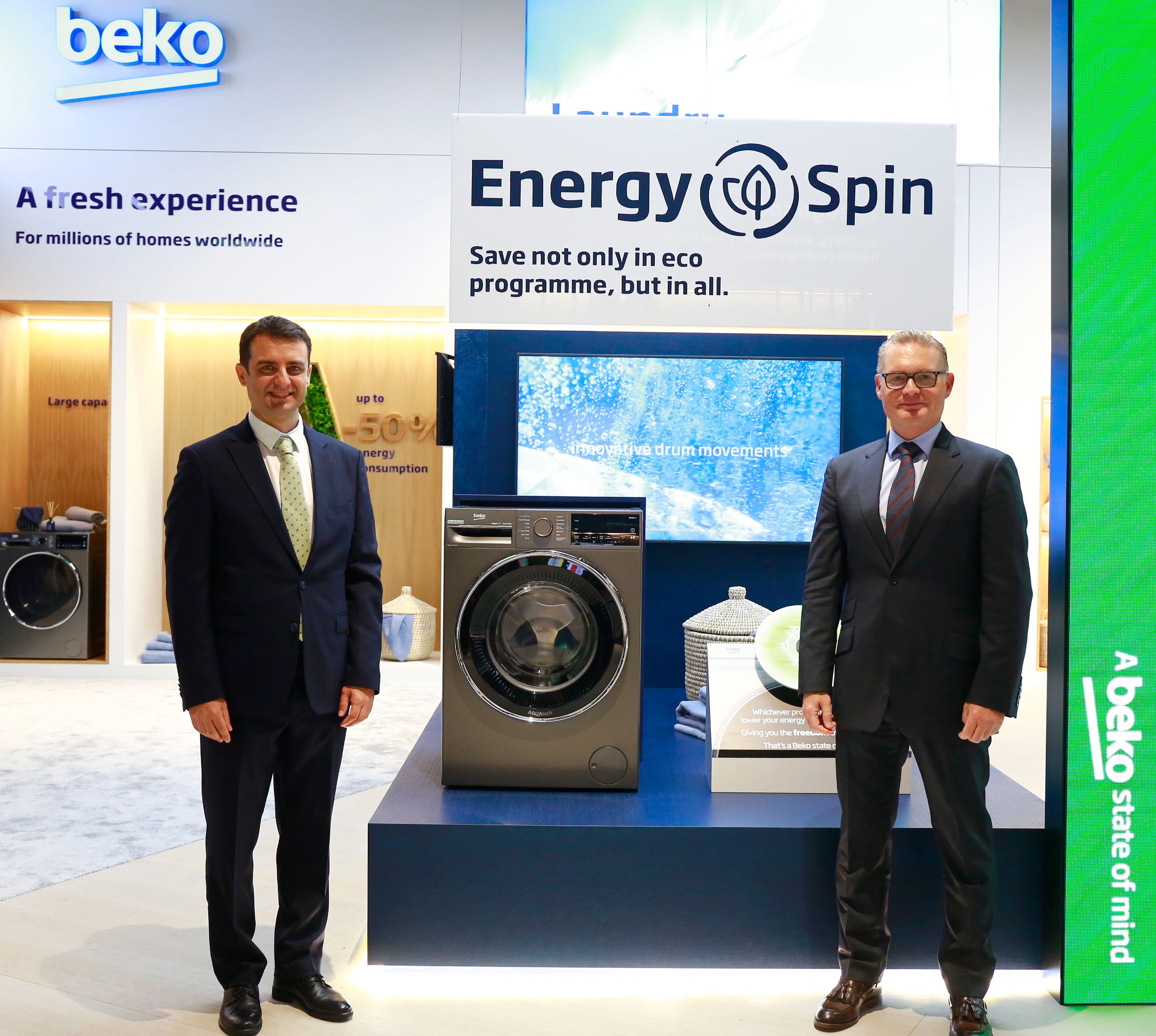 Emphasising the impact of collective action towards a more sustainable society, our parent company Arçelik's Chief Marketing Officer Akın Garzanlı and Chief Commercial Officer Ragıp Balcıoğlu introduced the "positive domino effect" philosophy which drives our product strategy and technology innovation as we strive to inspire sustainable living in every home. The conference culminated in the unveiling of two new key technologies under our global brands: EnergySpin by Beko and AI-Sense by Grundig.
By reinventing the conventional laundry process, Beko's EnergySpin technology helps to reduce the household's energy consumption. Rather than relying heavily on heat to dissolve detergent and eliminate stains, EnergySpin technology releases the detergent upfront. It harnesses the power of faster-than-usual drum speeds to elevate the pace at which the detergent dissolves. Called 'EnergySpin,' these unique drum movements eliminate the need for excessive heat generation during the wash, resulting in up to 35% less energy consumption than conventional machines while maintaining high-quality cleaning performance.*
Grundig's AI-Sense technology puts a new spin on the notion of "smart" washing. AI powers Grundig's new AI-Sense washing machine technology, which automatically and intelligently identifies the fabric type, soil level, load weight, and rinse requirements to optimise detergent, energy, and water use. AI-Sense washing machines have approximately 28% of the product's weight consisting of recycled materials, providing approximately a 32% reduction in the embedded carbon footprint of the product compared to a model that doesn't use recycled materials.
Akın Garzanlı, Chief Marketing Officer at Arçelik, Beko plc's parent company, comments:
"Our latest products for both Beko and Grundig are utilising cutting-edge innovation and the most popular technology of the moment, AI. Beko's EnergySpin is a gamechanger technology that stands out in the industry, while Grundig's AI-Sense brings new dimensions to the concept of efficient washing. This new AI technology allows consumers to make small yet impactful choices using the most advanced and intelligent technology available. Our company's mission is to promote sustainable lives in every household and we aim to ensure that our products last for an extended period before requiring replacement. Through our technology, innovation, and business model, we strive to empower our customers to make meaningful and positive choices that ultimately result in a better state of mind."
Ragıp Balcıoğlu, Chief Commercial Officer at Arçelik, Beko plc's parent company, comments:
"The cost-of-living crisis is impacting lives worldwide and forcing people to alter their spending habits. As the top-selling major home appliance brand in Europe, we aim to provide advanced technology combining the latest innovations, quality, and harmonious design. Our goal is to empower consumers to live consciously and sustainably while getting the most value for their investment. We will keep striving for excellence, making sustainability a cornerstone in our industry, and working together with our stakeholders to create a positive domino effect."
To bring the ethos of the positive domino effect to life, the company has created an interactive experience which was launched at IFA 2023. Designed to inform consumers of the potential of the positive domino effect, the experience, named DOMINO: The Little One, is a free to play video game that helps consumers understand the impact of their choices. Set in a fantasy world devastated by climate change, players can experience the impact of positive, incremental actions necessary to survive within the game.
The game will be available on Steam, App Store, and Google Play this winter. Beko's EnergySpin will be on the market by the end of 2023, and Grundig's AI-Sense will be available from 2024.
*Available on certain washing programmes.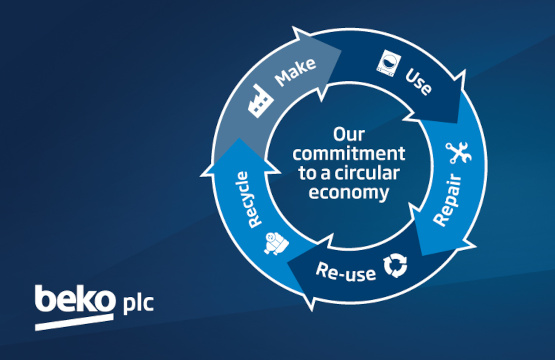 19th September 2023
Embracing a Circular Economy: Beko plc's Sustainable Journey
Embracing the circular economy, Beko plc are paving the way for a sustainable future through recycled materials and appliance repairs.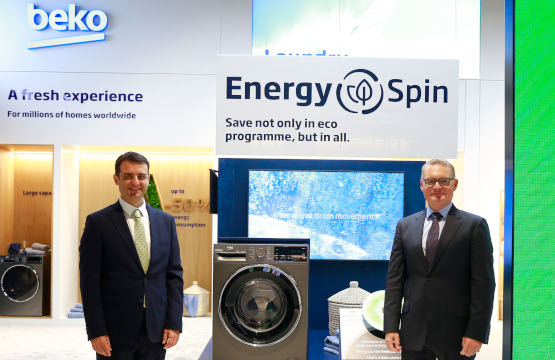 4th September 2023
Beko plc unveil new energy-saving technologies at IFA 2023
Beko plc presented our latest philosophy, highlighted the impact of incremental actions and announced our latest energy-saving product innovations at IFA 2023 in Berlin.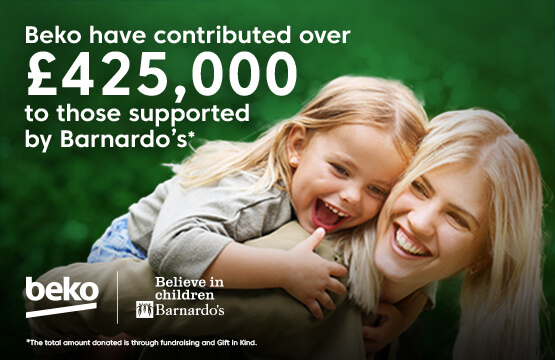 26th July 2023
Celebrating a decade of making a difference: Beko plc and Barnardo's charity partnership
Beko plc celebrates 10 years of partnership with Barnardo's, donating over £425,000 to support children, young people, and families across the UK.