3rd September 2022
Beko unveil game changing SaveWater technology at IFA 2022 Trade Fair
Beko Plc were delighted to return to the IFA 2022 Trade Fair in Berlin this September, alongside their parent company Arçelik, to showcase their game changing SaveWater technology.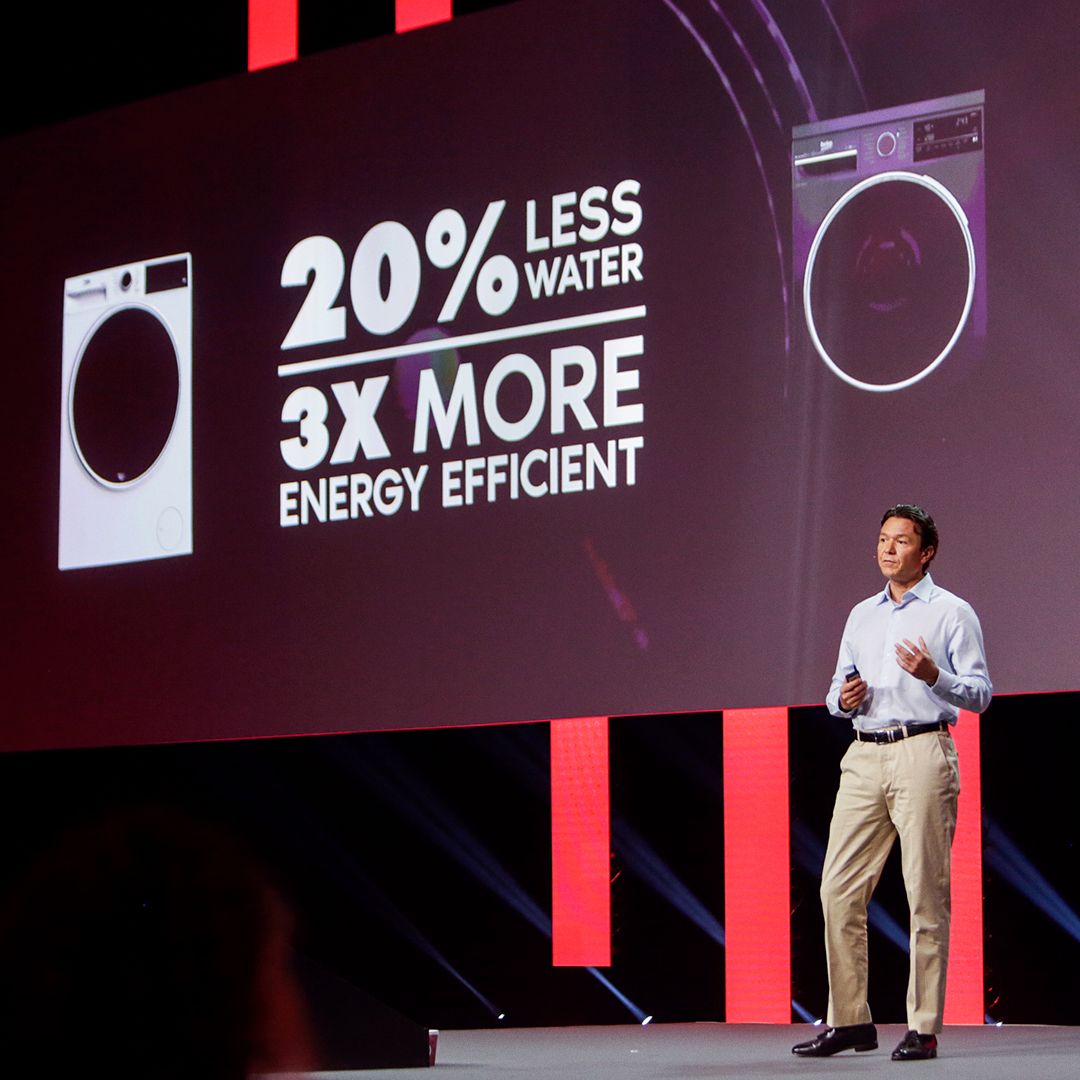 On Friday 2nd September, Hakan Bulgurlu, CEO of Arçelik Global, Beko plc's parent company, delivered an inspirational keynote speech at IFA 2022, one of the largest home electronics and consumer tradeshows in Europe. The event, which took place from the 1st-5th September in Berlin, saw some of the world's biggest brands showcasing their latest technologies and innovations to an international audience.
Sustainability was the central topic at IFA 2022 and Hakan's keynote speech raised urgent questions on the climate emergency, highlighting the challenges facing our planet today. In addition to explaining how the world can enjoy the benefits of technology, without harming the environment, Hakan shared Arçelik's vision for addressing and solving some of the most pressing environmental challenges. This vision reaffirmed Arçelik's position as an industry leader within sustainability, aiming to inspire immediate action that will make a positive and lasting difference.
During the speech, Hakan introduced Beko's new game-changing product innovation, SaveWater, which manifests our commitment to preserving nature as we work towards a net-zero future. Launching in September 2022, this revolutionary technology in dishwashers, washing machine, and tumble dryers has been crafted to provide water efficient cleaning, without compromising on performance. Developed with optimum water efficiency in mind, SaveWater gives back a total of up to 7.8 litres of water every cycle.[1]
Beko's innovative SaveWater dishwasher offers the lowest water consumption in the Beko range, ensuring dishes are perfectly clean, whilst also using water more effectively. With the ability to wash 16 place settings, the dishwasher consumes a minimal 6.9 litres of water to wash a full load. Water is reserved from the last rinse phase in the dishwashing cycle and is stored safely and hygienically in the machine's specially designed water tank. This water is then re-used in the beginning of the next wash, saving households 2.6 litres of water with every wash when using the Eco program. To ensure hygienic and safe conditions, the water in the tank is discharged if it is not used 72 hours after the previous wash cycle.
Designed to provide efficient and quality cleaning, the Beko SaveWater washing machine and tumble dryer have a gentler impact on the environment, without compromising on quality cleaning. Working in conjunction with the compatible Beko washing machine, the SaveWater tumble dryer collects water during the drying cycle and feds this directly into the washing machine to be used in the next wash cycle.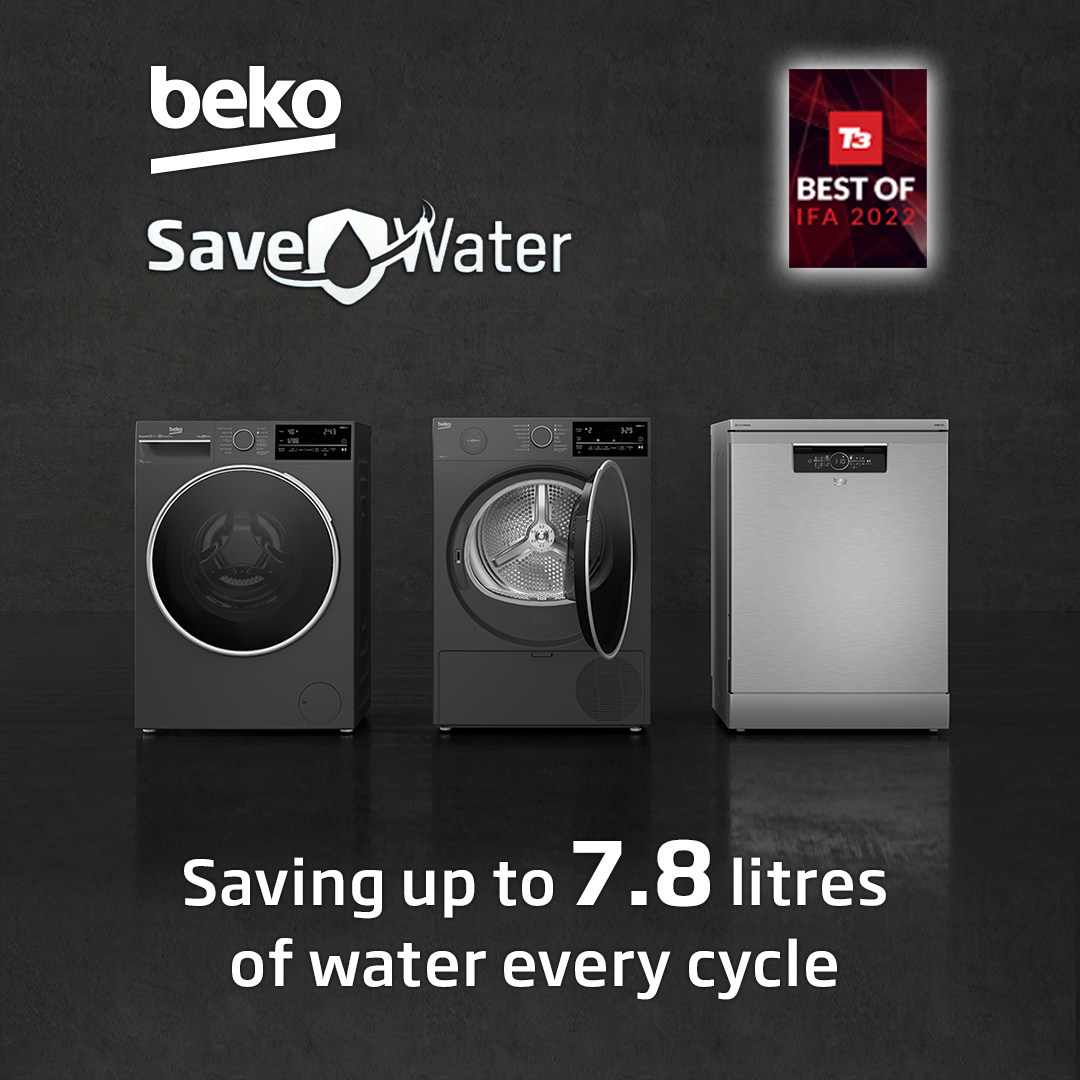 Ideal for busy households, the tumble dryer conveniently collects up to 5.2 litres of water during each cycle, safely storing this to supply the washing machine with water. This innovative technology was specifically developed to prevent the wastage of clean, reusable water that is collected in tumble dryer tanks, which is typically safe to use in household cleaning.
In addition to SaveWater, Beko's range of products showcased at IFA 2022 reflect our deep commitment to sustainability. At Beko PLC, we are committed to developing durable, quality products that help consumers live healthier lives, whilst also minimising their impact on the environment. As well as providing energy and resource efficiency, our sustainability mission covers all life cycle stages of products from raw materials to end of life. Across all our brands, we strive to implement responsible production methods that minimise the environmental impact of products with a holistic approach, including developing environmentally friendly packaging alternatives.
Our focus and credentials have seen Beko become one of the top three large home appliances brands in Europe in the white goods sector, and one of the pioneers in sustainability alongside our parent company, Arçelik.
[1] Disclaimer: *Tumble dryer saves up to 5.2L of water per cycle for full load 10kg declaration programme. Dishwasher saves 2.6L of water per cycle in Eco Program compared to similar Beko dishwashers without SaveWater technology. Beko SaveWater range saves up to total 7.8 litres of water every cycle.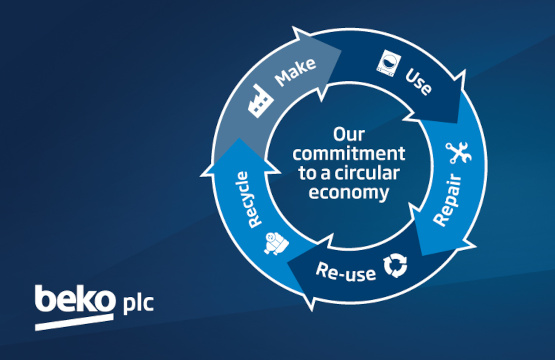 19th September 2023
Embracing a Circular Economy: Beko plc's Sustainable Journey
Embracing the circular economy, Beko plc are paving the way for a sustainable future through recycled materials and appliance repairs.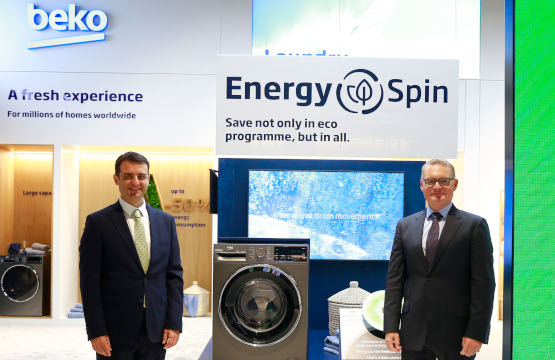 4th September 2023
Beko plc unveil new energy-saving technologies at IFA 2023
Beko plc presented our latest philosophy, highlighted the impact of incremental actions and announced our latest energy-saving product innovations at IFA 2023 in Berlin.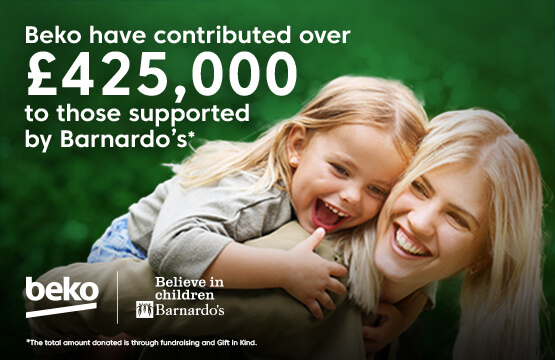 26th July 2023
Celebrating a decade of making a difference: Beko plc and Barnardo's charity partnership
Beko plc celebrates 10 years of partnership with Barnardo's, donating over £425,000 to support children, young people, and families across the UK.