20th April 2022
Beko Plc Return To The Euronics Showcase 2022
Beko plc return to the NEC in Birmingham to take part in the Euronics showcase, winning the Euronics award for best in class stand for Sustainability.
Taking place on Sunday 24th and Monday 25th April 2022, the Euronics showcase is a members only show for brands, CIH members and Euronics agents. Having previously taken part in the showcase in 2019, Beko plc were delighted to return to the NEC once again and to see over 400 members and their teams face-to-face at the event for the first time in three years!
At this year's event, Beko plc focused on sustainability, showcasing their latest products that help consumers reduce their impact on the environment. Sustainability is at the core of Beko plc's business model and the company are continually working to respect the environment. From energy, water, and waste management, to recycling and the circular economy, Beko plc's values ensure that their products are not only overachieving quality standards but are also working to create a sustainable future.
At this event, Beko were thrilled to win the Euronics award for best in class stand for Sustainability. Their multi-branded booth highlighted the company's commitment to the environment, from their corporate credentials and latest sustainable product innovation, to the reuse and recycling principles used throughout the stand.
The stand (270) showcased appliances from Beko plc's brand Blomberg, which is exclusive for CIH. Established in Germany in 1883, Blomberg has more than 130 years of experience in delivering quality and innovation. With a focus on intelligent solutions, energy efficiency, and the highest quality materials, Blomberg create home appliances with cutting-edge performance that function in perfect harmony with consumers.
Featuring a large-scale washing machine, the stand shone a light on Blomberg's latest washing machines that feature a tub made using up to 60 recycled plastic bottles. This innovative technology is extended across Beko plc's portfolio of brands, with Beko's RecycledTubTM washing machine and washer dryers also using recycled plastic bottles in their tubs.[1] To further showcase Beko plc's commitment to the environment, the stand highlighted Beko's RecycledNet™ ovens, which feature parts made from recycled fishing nets and industrial thread waste.[2] By transforming recycled materials into high performance appliance parts, Beko plc are beginning to take small steps to restore the health of our natural environment, proving their commitment to our planet in the process.
The stand showcased Blomberg's latest laundry technology, RapidJet, which replaces vigorous drum movements with the power of water to deliver washes that are up to 50% faster and 50% more gentle. The latest innovation from Beko plc's largest brand Beko, the UK's number one bestselling home appliance brand, were also spotlighted at the showcase. Fridge freezers from Beko's HarvestFresh™ range were present, with attendees being able to witness the crisper drawer technology first-hand. By mimicking the sun's natural 24-hour cycle, HarvestFresh™ preserves vitamins A and C in fruit and vegetables for up to five additional days.[3]
In addition to Beko and Blomberg, the stand showcased the latest products from Leisure and Zenith, allowing members to see exclusive product launches, innovation, and technologies. The brand's positive consumer reviews and awards were highlighted, including Reevoo and Which?, showcasing Beko plc's position as a trusted industry leader. Attendees also had the opportunity to visit a dedicated service and retail support area where they were able to find the answers to any queries.
When asked about the event, Steve Naylor, Channel Manager Independents, commented:
""Our team are really looking forward to being able to show some of the new, exciting and innovative products that we have for 2022 to the members of CIH. It's been three years since the last Euronics Showcase and you simply cannot replace the benefits of being able to demonstrate and explain new technology "face to face". We are all really looking forward to what should be an exciting show with "Sustainability" as our key message for 2022."
[1] Recycled plastic bottles are used in the production of Beko RecycledTub™ washing machines and washer dryer tubs, accounting for up to 10% of the materials used in each tub.
[2] In the production of the door décor plastic, display cover and inner display cover of Beko RecycledNet™ ovens.
[3] Tested by Intertek. Based on Vitamin C and Vitamin A measurements in tomatoes, green peppers, carrots, spinach, and celery directly exposed to the light technology compared with Day 0 conditions over a 5-day period.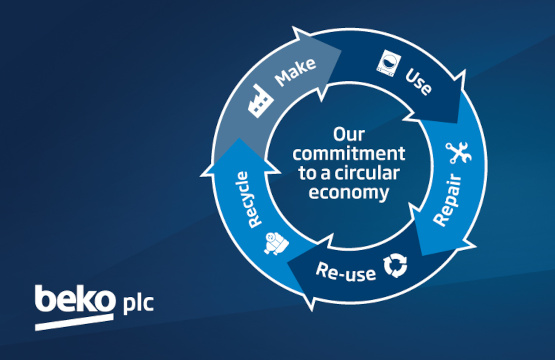 19th September 2023
Embracing a Circular Economy: Beko plc's Sustainable Journey
Embracing the circular economy, Beko plc are paving the way for a sustainable future through recycled materials and appliance repairs.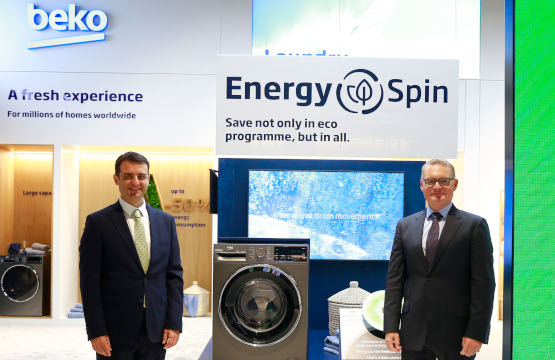 4th September 2023
Beko plc unveil new energy-saving technologies at IFA 2023
Beko plc presented our latest philosophy, highlighted the impact of incremental actions and announced our latest energy-saving product innovations at IFA 2023 in Berlin.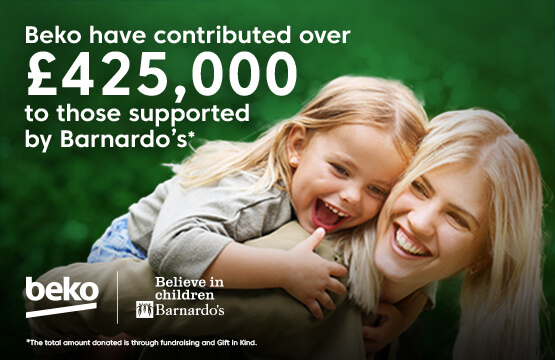 26th July 2023
Celebrating a decade of making a difference: Beko plc and Barnardo's charity partnership
Beko plc celebrates 10 years of partnership with Barnardo's, donating over £425,000 to support children, young people, and families across the UK.